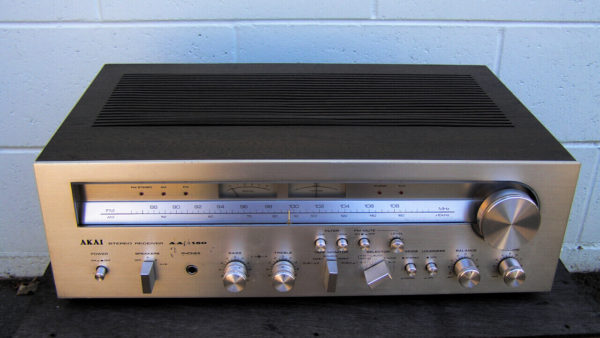 Beauties like this are becoming very hard to find *SOLD*
The AA-1150  stereo receiver is part of Akai's new 1000 series of Stereo and Quad components. We believe it's the finest line of receivers, for the money, in the business.
Like all our receivers, the AA-1150 was built with the same commitment to quality that made Akai tape equipment internationally famous.
We feel you won't find another receiver that comes on for the price with better sound or performance. Or better styling. Clean. Brushed aluminum. Beautiful. The strength of Akai. It's in our AA-1150. it's in our 1000 Series. With power output from 14 watts to 80 watts per channel, there's an Akai receiver for you. So you can make your own strong statement.
Specifications
Specifications
*All dial and meter lights working*
Tuning range: FM, MW
Power output: 50 watts per channel into 8Ω (stereo)
Frequency response: 6Hz to 70kHz
Total harmonic distortion: 0.1%
Damping factor: 30
Input sensitivity: 3mV (MM), 150mV (DIN), 150mV (line)
Signal to noise ratio: 80dB (MM), 90dB (line)
Channel separation: 55dB (MM)
Output: 150mV (line), 30mV (DIN)
Speaker load impedance: 4Ω to 16Ω
Semiconductors: 4 x IC, 1 x FET, 39 x transistors, 24 x diodes
Dimensions: 480 x 155 x 345mm
Weight: 11.7k