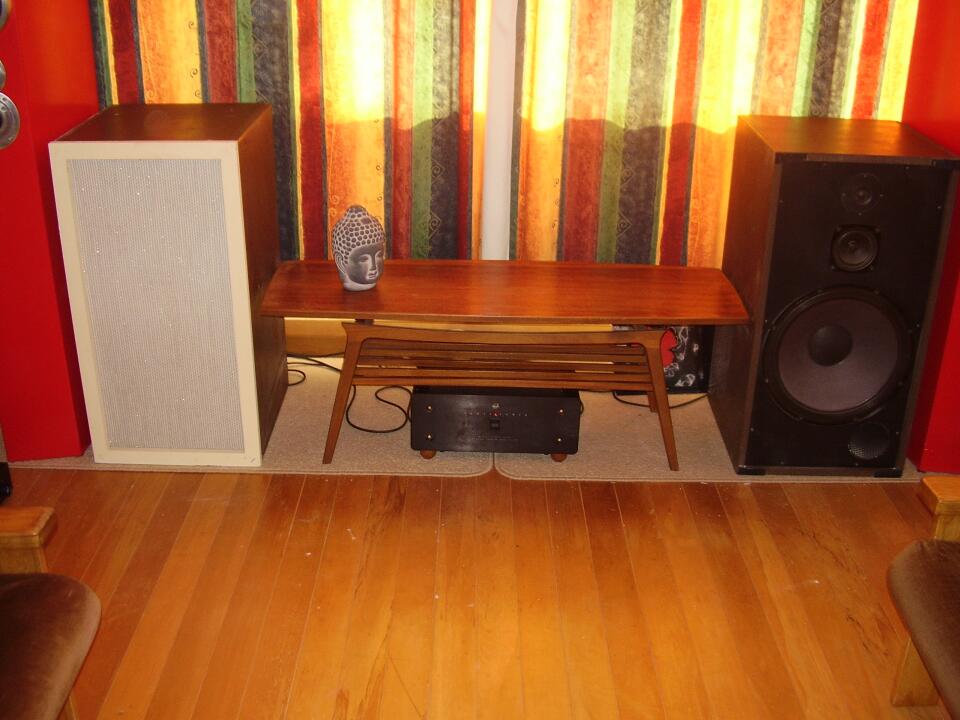 Three Way Speaker System Made in USA  *SOLD*
Features the superb K 33 15 inch woofer as used in the famous Klipshhorn Speakers.
New price $1200.00US each
HC-14/15 Speaker Cabinets
The Allen HC-15 speaker (HC-14 in veneered finishes) These three-way speaker cabinets include a 15″ woofer, as well as a 4″ mid-range and a 1″ tweeter. The result is a full-range cabinet with a perfect blend of bass, midrange and treble capabilities. The Allen HC-14 and 15 cabinets faithfully recreate the high-fidelity sounds produced by Allen's advanced Renaissance™ tone-generation system.
Features:

Passive three-way crossover network
15″ woofer
4″ Mid-range Driver
1″ Tweeter
Frequency response 30 Hz to 20 kHz
Sensitivity 98 dB
Nominal Impedance: 8 ohms
Dimensions (Utility Cabinet*):
17 3/8″ (441 mm) wide
33 1/4″ (844 mm) high with glides
16 9/13″ (424 mm) deep with grill
Weight: 82 lbs. (37.2 kg) uncrated

I have just set this pair up for the first time. All drivers in perfect condition
Sound superb.
I will try them with a small vave amp next should be a great match.
Two Pairs Available.
*Price for pair*