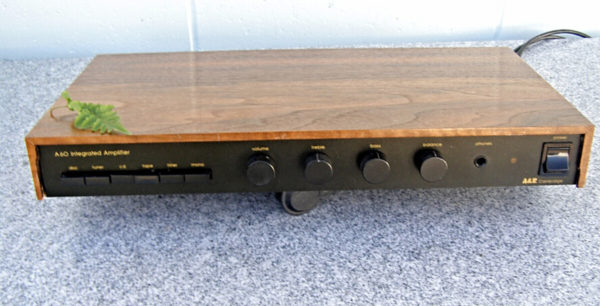 A very rare find .A late model A&R A60 with dedicated CD input.Not many of these were made . Phono input has RCA plugs  *SOLD*
The A60 can accept any magnetic or moving coil cartridge. The cartridge may be optimally matched by the addition of a switchable loading module and, in the case of a low output moving coil cartridge, the internally fitted MC 60 pre-amplifier board.
All the inputs to the A60 have high overload margins so that almost any input source can be accepted without distortion. A switchable high frequency filter is fitted to reduce the noise from scratches on old records and stereo FM noise on tuners.
The bass and treble controls have been designed so that deficiencies in some small speakers and cartridges may be corrected without coloration of the mid frequency band. All input sockets have high quality silver plated contacts for minimum noise.
The loudspeakers are connected via heavy duty screw terminals which can accept either bare wires or 4mm plugs. Although the speaker sockets are wired directly to the amplifier outputs to obtain the best possible sound quality, switched outputs are also fitted enabling the speakers to be cut out when headphones are plugged in.
Power output: 40 watts per channel into 8Ω (stereo)
Frequency response: 20Hz to 20kHz
Total harmonic distortion: 0.2%
Damping factor: 45
Input sensitivity: 0.1mV (MC), 2mV (MM), 100mV (line)
Signal to noise ratio: 63dB (MC), 70dB (MM), 85dB (line)
Dimensions: 450 x 255 x 60mm
Weight: 5kg