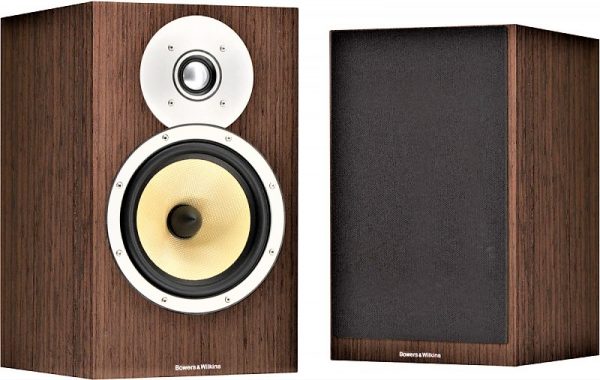 On a bookshelf or a speaker stand, the CM5 will give you a wonderfully big, expansive sound even if you don't have the floorspace to match. *SOLD*
It's a slightly larger speaker than its sibling the CM1, with even higher sensitivity and power handling, and better bass extension. It partners a sizable 165mm Kevlar cone bass/midrange driver with a Nautilus tube-loaded aluminum dome tweeter, capable of keeping high frequencies crisp and sharp all the way up to 50kHz and beyond.
The quality of CM Series drive units has made it possible to use minimalist crossovers throughout the whole range. The resulting gentle transition between drivers avoids the unnaturally rapid changes in dispersion that bedevil more complex designs, while the high quality components, carefully chosen after exhaustive listening tests, ensure that as little as possible gets between you and the sound of the original recording.
Listening
Right out of the box, with all of the first dozen or so recordings I threw at them, the CM5s evinced four remarkable strengths:
Detail Resolution, Transparency, and Noise Floor: As the music emerged from a silent black space with copious, transparent room sound, familiar recordings revealed inner instrumental details that I hadn't noticed before. It was easy to get lost in the music; these speakers made it effortless for me to pick out every subtle nuance in the performance.
Transient Delicacy and Speed: The CM5 was able to reproduce lightning-fast transients with never a sense of sharpness or of a mechanical quality. Every transient seemed to float on its own bed of air, as in a live performance.
Huge Dynamic Envelope: Although the CM5's articulations of detail and transients went hand in hand with its ability to unravel low-level subtleties, it was its strengths at the opposite end of the dynamic range that knocked me for a loop. With all recordings I listened to, the speaker handled fortissimos as if it were a large floorstander: with nary a hair of compression or strain.
Neutrality: With one minor exception on certain recordings (see below), the speaker reproduced a dead-neutral balance throughout its frequency range, with coherent integration of high-frequency, midrange, and bass timbres.
2-Way Vented-Box System
Drive Units: 1 x 25mm (1″) aluminum dome high-frequency; 1 x 165mm (6.5″) woven Kevlar cone bass/midrange
Frequency Range: -6dB at 45Hz and 50kHz
Frequency Response: 52Hz ? 22kHz 3dB on reference axis
Dispersion: Within 2 dB of reference response
Sensitivity: 88dB SPL (2.83V, 1m)
Harmonic Distortion: 2nd and 3rd harmonics (90dB, 1m);
Nominal Impedance: 8ohm (minimum 3.7 ohm)
Crossover Frequencies: 4kHz
Recommended Amplifier Power: 30W 120W into 8ohm on unclipped programme
Dimensions (H x W x D): 340mm x 200mm x 301mm
Weight: 8.9kg