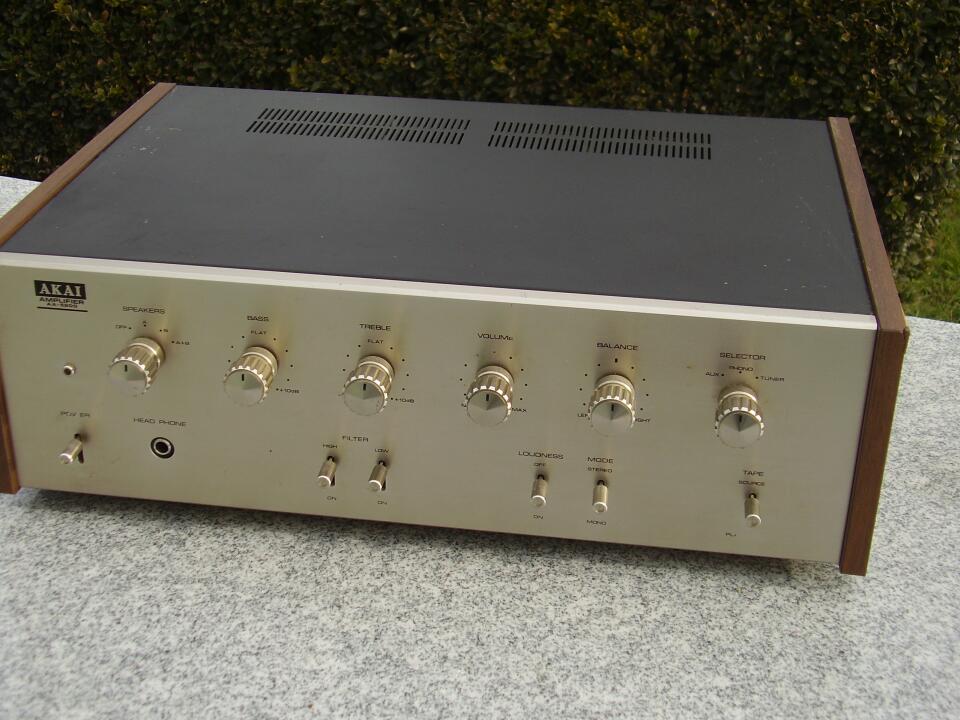 AKAI. AA-5200. A classic from the 1970s. In great condition.
I have spent some time listening to this amp and I would rate it as one of the best solid state vintage amps of its size I have listened to.
Outstanding build quality and performance
Form
Integrated Amplifier
Output

Music power :
80W (4ohms)
60W (8ohms)

Continuous cruising power :
30W+30W (4ohms)
20W+20W (8ohms)

THD
0.1% or less
Output bandwidth (IHF)
20Hz – 45kHz (0.8%)
Frequency response
20Hz – -50kHz three dB
Input sensitivity/impedance
Phono1, 2:3mV/50kohm
AUX: 150mV/50kohm
Main: 775mV/50kohm
Tape Monitor(Din/Pin): 150mV/30kohm
S/N ratio
Phono:65dB
AUX:80dB
Remains noise
1.5mV or less
Channel separation (1kHz)
Phono:60dB
AUX:60dB
Equalizer
RIAA±1dB
Tone control
Bass: 100Hz±10dB
Treble: 10kHz±10dB
Loudness control
(Volume -30dB)
100Hz:+7dB
10kHz:+4dB
Filter
A high filter: -10kHz seven dB (12 dB/oct)
A low filter: -50Hz 12dB (12 dB/oct)
The semiconductor used
Transistor: 15 pieces
Diode: Eight pieces
Barista: Two pieces
IC: Four pieces
Power supply voltage
An AC100V – 240V six-step change type, 50Hz/60Hz
Power consumption
150W
Dimensions
Width 432x height 143x depth of 330mm
Weight
9.0kg
This product is currently not available.