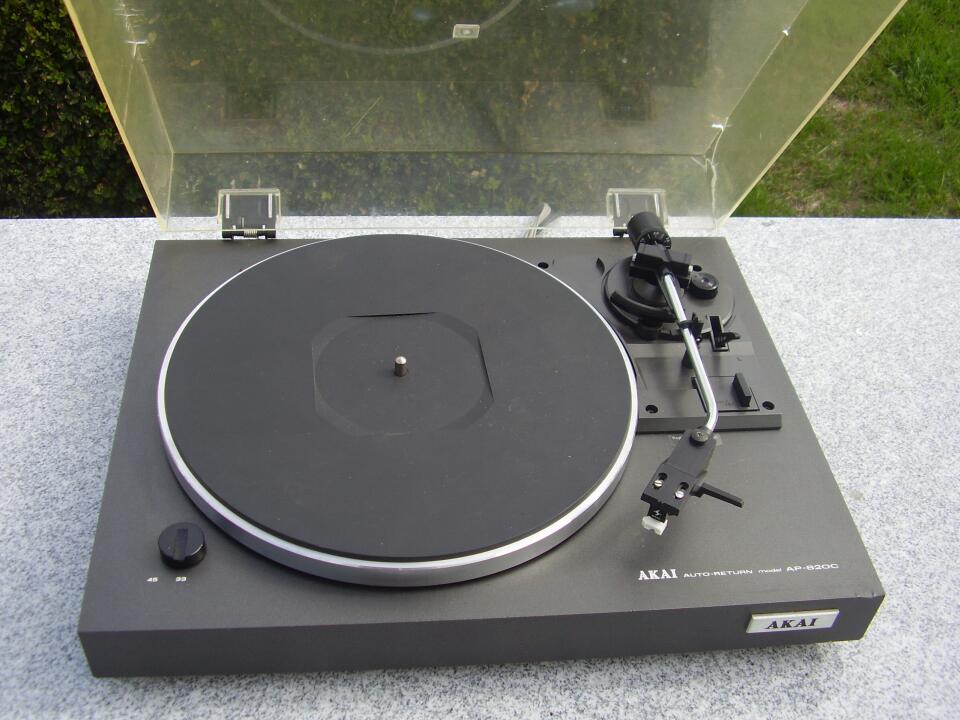 Belt drive turntable. Features a heavy solid plinth and is fitted with a new belt and a brand new styli.
Ready to give years of musical enjoyment
Specifications
Turntable: 300 mm Aluminum alloy die cast
Drive System and Mechanism: Belt-Drive, Semi-automatic
Motor: 4-pole synchronous motor
Speed and Pitch Control: 33 ⅓ and 45 rpm ±5%
Wow and Flutter: 0,05% (DIN)
Rumble: 65 dB (DIN-B)
Tone-arm: Static balanced type with inside force canceller
Effective Arm Length: 220 mm
Stylus Pressure Adjustment Range: 0 to 3 grams
Applicable Cartridge Weight: 4 to 9 grams
Arm Lifter: oil damped
Overhang: 15 mm
Offset Angle: 22°30′
Horizontal Tracking Error Angle: +3° 5′
Shell Weight: 6,5 grams
Cartridge: Dual Magnet type
Output Voltage: 5 mV (DIN 45541)
Channel Separation: More than 20 dB (DIN 45541)
Optimal Stylus Pressure: 2 grams
Static Vertical Compliance: 18 x 10¯⁶ cm/dyn
Static Horizontal Compliance: 18 x 10¯⁶ cm/dyn
Power Requirements: 110-120 / 220-240 V, 50/60 Hz
Dimensions (W x H x D): 440 x 135 x 355 mm ( 17,3 x 5,3 x 14 inch)
Weight: 5,9 kg (13lbs)
If you would like a quote for freight costs, add this item to your cart and complete the form to send us your request. We will send you a price including freight along with instructions on how to make your payment.