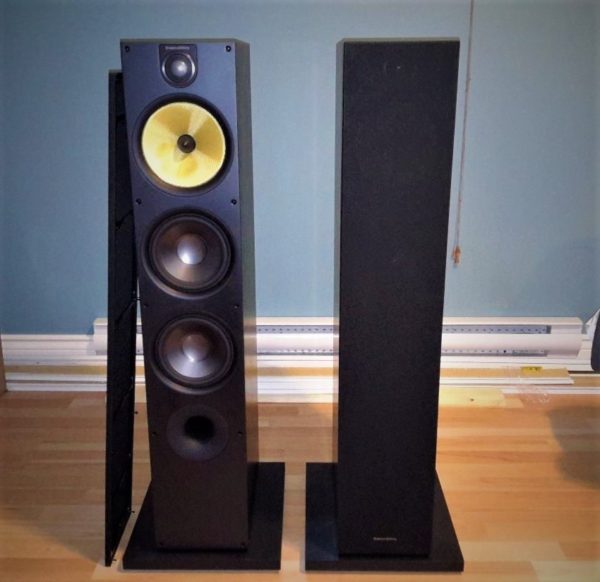 Seldom offered for sale  *SOLD*
Best floor stander £600-£1200, Awards 2014. A very strong and versatile performance; another winner for B&W
Tested at £1150
Description: Three-way, vented-box loudspeaker. Drive-units: 1″ (25mm) aluminum-dome tweeter, 6″ (150mm) woven-Kevlar-cone FST midrange, two 6.5″ (165mm) aluminum-cone woofers. Crossover frequencies: 400Hz, 4kHz. Frequency response: 52Hz–22kHz, ±3dB on reference axis, –6dB at 30Hz and 50kHz. Dispersion: within 2dB of on-axis response over 60° arc (horizontal) and 10° arc (vertical). Sensitivity: 89dB/2.83V/m. Harmonic distortion (second and third harmonics, 90dB, 1m): <1.0%, 95Hz–22kHz; <0.5%, 120Hz–20kHz. Impedance: 8 ohms nominal, 3 ohms minimum. Recommended amplification: 25–200W into 8 ohms on unclipped program. Maximum recommended cable impedance: 0.1 ohm.
Dimensions: 38.4″ (985mm) H by 7.4″ (190mm) W by 14.2″ (364mm) D. Weight: 59.8 lbs (27.2kg).
Finish: Black Ash .
If you would like a quote for freight costs, add this item to your cart and complete the form to send us your request. We will send you a price including freight along with instructions on how to make your payment.
Product Description