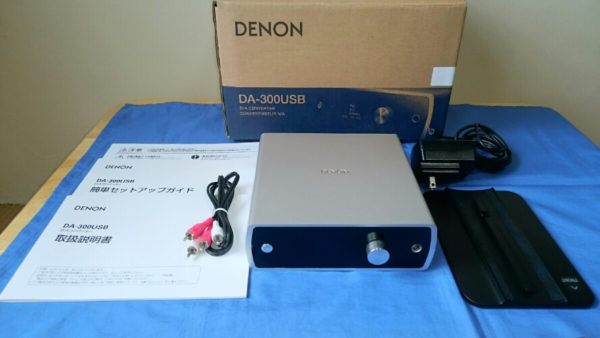 DENON USB – DAC Headphone Amplifier DA – 300USB High Resolution Sound
With original packing *SOLD*
At the heart of the DA-300USB is the high resolution PCM1795 D/A converter, which features advanced segment 32 bit architecture along with the ability to handle up to 192kHz PCM sample rates as well as the ability to decode both 2.5Mhz and 5.6Mhz high resolution DSD files (either natively decoded or via DoP – DSD over PCM).
Via the USB-B port, the DA-300USB communicates with the PC or Mac via asynchronous data transfer mode, which ensures smooth, jitter-free digital communication, which is especially vital with very high bandwidth digital audio datastreams. For optimum compatibility with the broadest range of sampling frequencies, the DA-300USB is equipped with two master clock crystals, instead of the usual one.
For the widest dynamic range and lowest distortion, the DA-300USB features sophisticated digital signal processing, including Denon's exclusive Advanced AL32 processor that delivers vastly improved detail especially through the critical midrange band, providing noticeable improvements in clarity with low level softer sounds.
If you would like a quote for freight costs, add this item to your cart and complete the form to send us your request. We will send you a price including freight along with instructions on how to make your payment.