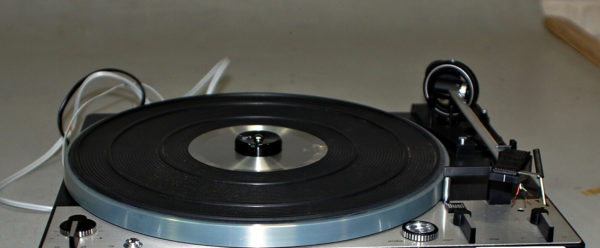 This superb unit is now on its way to our craftsman furniture maker to be fitted with a solid timber plinth . Enquire now if you would like to order the finish of your choice
Description
With the 1229, Dual has achieved what many audio experts have called the no-compromise automatic.
The most dramatic example of this is the mode selector that shifts the entire tonearm base – down for single play, up for multiple play.
Thus the stylus tracks at precisely the correct angle in both modes of play.
The 8 3/4 inch tonearm, the longest of any automatic, tracks flawlessly at as low as 0.25 gram.
Other 1229 features include 12 inch a dynamically balanced 7lb platter, powerful continuous pole / synchronous motor, built in illuminated strobe with adjustable viewing angle and a calibrated tracking pressure dial.
The unit has 3 speeds with one semitone pitch variation on all three speeds and the torsionally rigid, extra-long all-metal tonearm features four-point Gimbal type bearing.
Specifications
Drive: synchronous continuous-pole motor with radial elastic suspension
Platter: non-magnetic, dynamically balanced, weighing 3,1kg
Speeds: 33.33, 45 and 78rpm
Pitch control variation: 6%
Speed accuracy deviation: +-0.06%
Signal to noise ratio: -63dB weighted
Tonearm: extra-long, torsionally rigid metal arm, in 4-point gimbal suspension, with skeletal head design
Cartridge holder: removable, accepts all 1/2″ cartridges from 1 to 12g
Dimensions: 376 x 308mm
Weight: 7.2kg
If you would like a quote for freight costs, add this item to your cart and complete the form to send us your request. We will send you a price including freight along with instructions on how to make your payment.