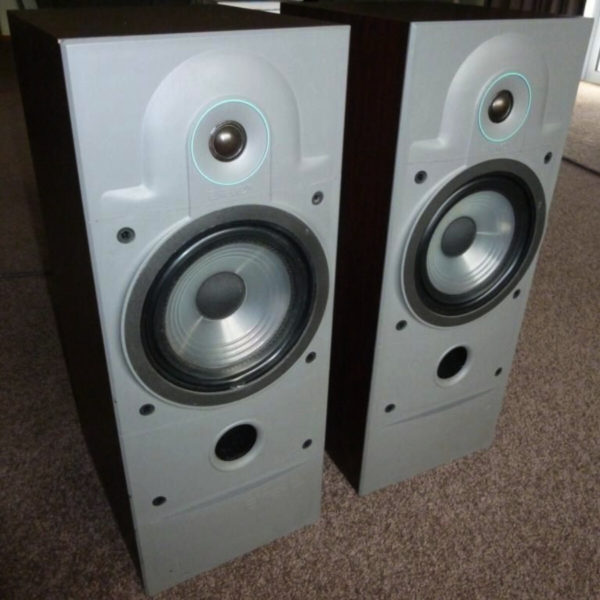 From Canada's leading speaker manufacturer
Specifications :
  -:®:-   Design : Front vented, 2-way speakers
-:®:-   Drivers : 178mm [ 7″ ] polypropylene woofer,  25.5mm [ 1″ ] soft dome tweeter
-:®:-   Power handling : 40W to 100W RMS  [ 200W peak : source less than 1% distortion ]
-:®:-   Impedance : 6 ohms nominal impedance [ minimum 4ohms ]
-:®:-   Frequency response : 35Hz to 22kHz +/- 3dB,&bsp; -10dB at 27Hz
-:®:-   Sensitivity : 87dB for 1W / 1m
-:®:-   Made in Canada
-:®:-   Cosmetic : ash, or walnut with light grey front baffle colour, with black grille cloth
-:®:-   Output connections : 5-way gold plated bindng posts
-:®:-   Dimensions [ W x H x D ]: 614 x 245 x 305mm
-:®:-   Weight : 16.3kg each  – packed 19kg each
The Energy 4.1e had a smooth, slightly warm sound character. It projected a distinct stereo image, with accurate lateral positioning and a good sense of height. Its bass performance was perhaps its clearest difference from most speakers of its size and basic type: It can deliver a useful amount of low-distortion output in the 35- to 40-Hz range.
Although there are a number of speakers with finished front panels that can be used without their grilles, most of them present a somewhat raw appearance in that condition. The unique front panel of the Energy 4.1e actually looks as though it were meant to be seen, and the speaker looks good either way. It also sounds good, with a pleasing balance and stereo presentation that make it a strong contender among speakers of its size and price.
If you would like a quote for freight costs, add this item to your cart and complete the form to send us your request. We will send you a price including freight along with instructions on how to make your payment.
Product Description