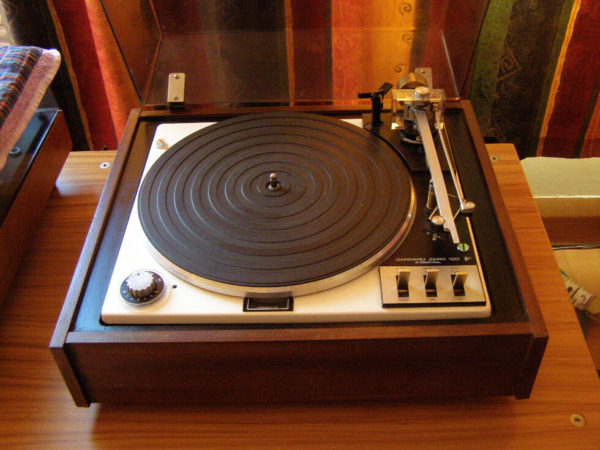 Fitted with an EPS 270 cartridge and a brand new styli this classic beauty is a superb performer
The Garrard Zero 100 is a superb two-speed transcription turntable with such special features as:
An ingenious tonearm virtually without tracking error (patent applied for) with damped cueing action.
A magnetic tonearm anti-skating system (patent applied for).
A motor with the advantages of both induction and synchronous motors (patent applied for).
A record speed and pitch control system with built in stroboscopic checking.
A tilting device to set the cartridge at a 15 degree tracking angle.
In addition to manual operation the Zero 100 will automatically play single 7″, 10″ and 12″ records, or a stack of up to seven 12″ records – adaptors are available to play records with large centre holes and to play a stack of 7″ records.
Specifications
Type: automatic record changer
Drive method: idler wheel
Speeds: 33 and 45rpm
Pitch control: plus or minus 3%
Motor: 4-pole induction for starting with synchronous section for constant running speed
Tonearm: head pivots laterally as it tracks a record
Wow: better than 0.10% RMS
Flutter: better than 0.05% RMS
Rumble: negligible
Power supply: 110/125V or 110/120V and 220/240V depending on motor coil windings
Power supply frequency: 50 or 60Hz depending on pulley and stroboscope fitted
Review
Garrard's Zero 100, in basic performance, easily ranks with the finest automatic turntables on the market. In our view, the results were well worth the effort – Stereo Review 1971
If you would like a quote for freight costs, add this item to your cart and complete the form to send us your request. We will send you a price including freight along with instructions on how to make your payment.