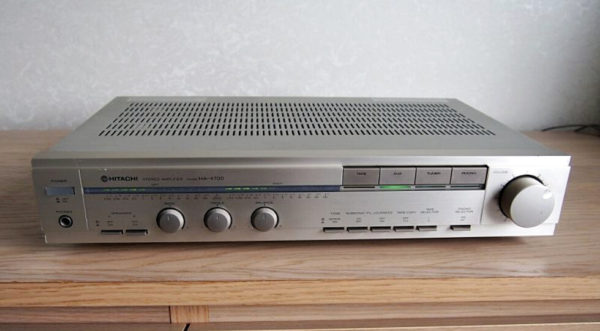 A powerful and superb performer in excellent condition *SOLD*
Hitachi HA-4700
The Hitachi HA-4700 integrated amplifier is rated to deliver 50 watts per channel to 8-ohm loads from 20 to 20,000 Hz with no more than 0.02 per cent total harmonic distortion. It employs a "super-linear" output circuit similar to those used in some other amplifiers to reduce crossover distortion without sacrificing the efficiency of class-AB amplification. The bias on the output transistors is varied dynamically according to the signal level to shift their operating characteristics from class-A at low levels to class-AB at higher outputs.
The HA-4700's phono preamplifier can be switched for use with either moving-magnet (MM) or moving-coil (MC) cartridges. The program source is selected by a row of flat buttons with colored lights below them showing which has been selected. The inputs are identified as phono, aux, tuner, and tape (the last can be operated independently of the others for listening to a tape recorder's playback regardless of the regular program source).
Hitachi HA-4700
Stereo Integrated Amplifier (1980-81)
Hitachi HA-4700
Specifications
Power output: 50 watts per channel into 8Ω (stereo)
Frequency response: 10Hz to 70kHz
Total harmonic distortion: 0.02%
Damping factor: 40
Input sensitivity: 0.15mV (MC), 2.5mV (MM), 150mV (line)
Signal to noise ratio: 73dB (MC), 90dB (MM), 105dB (line)
Output: 150mV (line)
Semiconductors: 5 x IC, 67 x transistors, 71 x diodes
Dimensions: 435 x 83 x 326mm
Weight: 6.3kg
Year: 1980
If you would like a quote for freight costs, add this item to your cart and complete the form to send us your request. We will send you a price including freight along with instructions on how to make your payment.