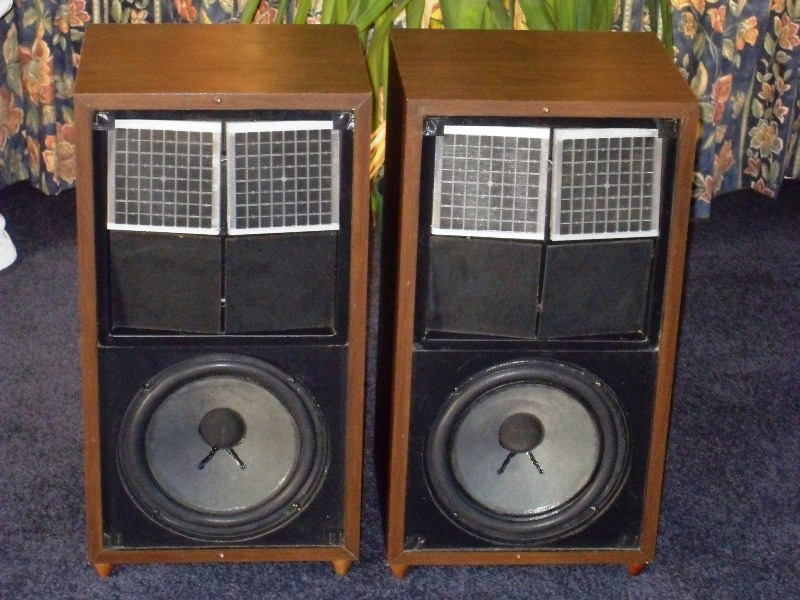 *SOLD* 2 way Electrostatic Hybrids. 10 inch Woofer 2 x Electrostatic panels in each.
All in perfect working condition. Janszen Electrostatics are highly sought after and very hard to find in good condition. Circa 1975. Made in USA . *New surrounds fitted to woofers*
Have been running these for a couple of days. "Fantastic"
Over the years the electrostatic loudspeaker has been recognized by audiophiles as the most accurate acoustic transducer. Its widespread use has been limited in the past by its high cost, rumors about problems with humidity and limited power capacity, and a general fear by the less sophisticated audiophile of such an unusual looking device, plus its esoteric operating principles.
Since Arthur A. Janszen developed what is known as the push-pull electrostatic element in 1949, JANSZEN has been manufacturing these speakers. Combining years of manufacturing experience with research, we have developed a new improved electrostatic radiator that truly represents fourth generation technology. This new driver is manufactured to tolerances so precise that typical units are within 0,5 dB of our specifications. Furthermore the new electrostatic have proven so totally reliable and rugged under all weather and power conditions that we have elected to offer an unprecedented "Five Year Conditional Warranty". The overall system is warranted for parts and labor for five years commencing on the date of original purchase from a franchised JANSZYN dealer. To deny the musical integrity of Janszen Electrostatic speakers would be to deny the laws of physics.
Special Features:
Super clean and smooth "mids" and "highs"
Solis bass
Efficient
Ultra-low distortion
Small size
Electrostatic sound at a modest price
Overall Acoustic Specifications
Frequency Response: 40 – 20,000 Hz ±3 dB; 35 – 30,000 Hz ±6 dB
Minimum RMS Power Required: 15 watts
Maximum RMS Power Handling: 74 watts
Low Frequency Transducer
Type: Dynamic, Acoustic Suspension
Cone Diameter: 254 mm (10 inch)
Voice Coil Diameter: 38,1 mm (1,5 inch)
Total System Resonance: 48 Hz
Q Factor (Damping Characteristic): 1,1
Crossover Configuration: Mass Loaded
Crossover Point: 800 Hz
Nominal Impedance: 4Ω
High Frequency Transducer
Type: Electrostatic
Radiating Area: 206 cm² (32 sq. inch)
Polarization Voltage: 1200 Vdc
Distortion THD 9Over operating range): 0,5%
Crossover Point: 800 Hz 12 dB/octave
Dispersion: 50° Horizontal, 30° Vertical
Power Supply Type: Full Wave Voltage Multiplier
Power Requirements: Local AC Line Voltage, 50/60 Hz , 2 Watts
Dimensions (H x W x D): 470 x 318 x 280 mm (18½" x 12½x 11″)
Cabinet Finish: Walnut Vinil (W) Black Cloth-Grill
Shipping weight: 12,5 kg (28 lbs) Pair
If you would like a quote for freight costs, add this item to your cart and complete the form to send us your request. We will send you a price including freight along with instructions on how to make your payment.