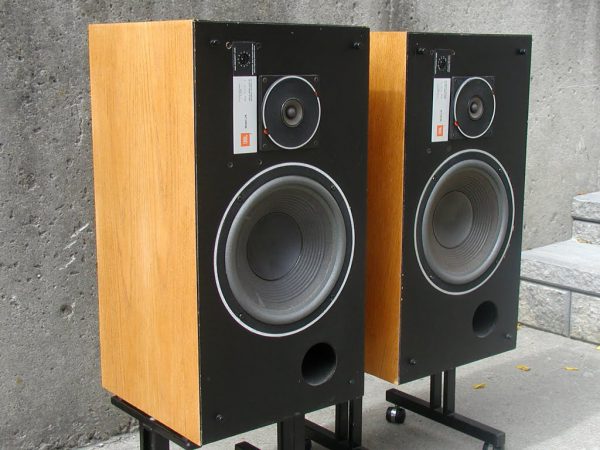 We now have a pair of these remarkable JBL heritage speakers in stock. They are presently undergoing a total refurbishment and will soon be offered for sale. Register your interest now to avoid disappointment *SOLD*
 The L26 was developed through the technology that made JBL the leading manufacturer of loudspeaker system for professional use. It meets the same stringent requirements as JBL studio monitors, providing clear, crisp reproduction, freedom from distortion and lack of coloration – all reasons most major recording groups insist on JBL professional loudspeakers for live performances as well as studio recording.
The L26 achieves the open, effortless performance that is characteristic of JBL loudspeaker systems. It even approaches, within just a few decibels, the thunderous volume levels required of JBL monitors in the recording studio. Each component of the L26 – low frequency loudspeaker, high frequency direct radiator frequency dividing network and enclosure – has been designed to function as part of the complete system, optimizing performance and efficiency without sacrificing definition orthe ability to accurately reproduce the fleeting bursts of sonic energy, known as transients, so essential to realism.
Like all JBL loudspeaker system, the L26 utilizes a ported enclosure to increase efficiency and dynamic range rather than a sealed "acoustic suspension" enclosure which achieves bass response at the expense of efficiency, dynamic range and transient reproduction. Efficiency is important for two reasons; it permits use of a relatively low power, moderately priced amplifier, and it allows the amplifier to operate at a lower power level, providing the reserve necessary to achieve full dynamic range and excellent transient reproduction. Efficiency and outstanding reproduction make the L26 ideal for the music listener wanting to combine superb performance with compact size.
Specifications
Power Capacity:  35 Watts continuous program
Nominal Impedance:  8 ohms
Dispersion:  90° horizontal and vertical
Crossover Frequency:  2000 Hz
Efficiency:  76 dB (1 Watt at a distance of 15 feet)
Low Frequency Loudspeaker
Nominal Diameter : 10 inches (250 mm)
Voice Coil : 2 inch (50 mm) copper
Magnetic Assembly Weight : 2,5 pounds (1,1 kg)
Flux Density : 8500 gauss
Sensitivity : 40 dB
High Frequency Direct Radiator
Nominal Diameter : 1,4 inches (36 mm)
Voice Coil : 5/8 inch (16 mm) copper
Magnetic Assembly Weight : 1,6 pounds (0,7 kg)
Flux Density : 15,000 gauss
Sensitivity : 47 dB
Finish: Natural Oak
Grille:  Stretch fabric
Grille Color Options:  orange, Blue, White or Brown
Dimensions:  12-3/4 x 24 x 13-1/4 inch (320 x 610 x 34 mm)
Weight:  41 lbs (19 kg) shipping
If you would like a quote for freight costs, add this item to your cart and complete the form to send us your request. We will send you a price including freight along with instructions on how to make your payment.