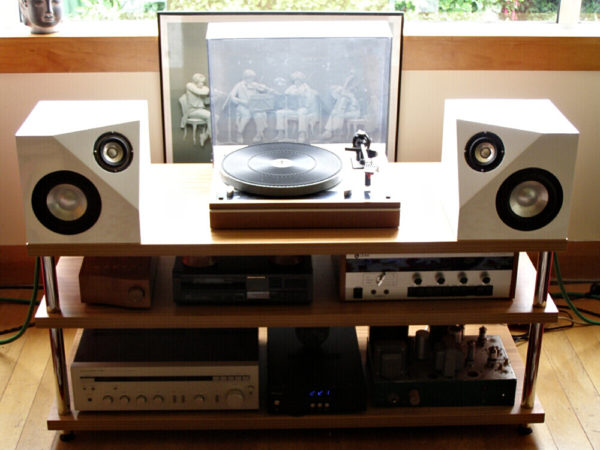 The amazing Omuni Mini Omnidirectional speakers
Designed to place on the floor or shelf
Introduction
Are you a hopeless romantic who still believes in love at first sight? One glance and it's blindingly evident that the Omuni Minis are not your commonplace bookshelf speakers, but do they capture your imagination? I can tell you right away that these surprisingly small cabinets produce a BIG sound! These unusual speakers come from New Zealand designer and manufacturer Eric Cross of Vintage Audio World.
What you get
The larger drivers are from SB Acoustics, designed in Denmark and the smaller ones are from Fountek and used in many top designs from manufacturers such as Boenicke Audio. Each cabinet pairs the 12 cm bass/midrange and the 6.5 cm fullrange tweeter. Only two high quality crossover components are used (without matching resistors): a Jantzen Audio superior zcap and inductor. In the specially designed wooden cabinet, they achieve a frequency range of 35-20,000 Hz (3dB), with an impedance of 8 Ohm and a fairly efficient sensitivity of (2,83V / 1m) 86dB. Neat rounded rubber feet and connectors are located on the base side out of sight and providing orientation for the cabinets.
If you would like a quote for freight costs, add this item to your cart and complete the form to send us your request. We will send you a price including freight along with instructions on how to make your payment.
Product Description