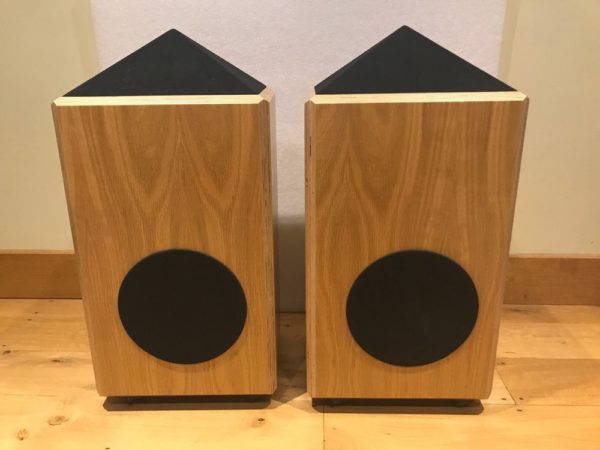 The OBELISK is the first loudspeaker designed and produced by us in 1977. At the time, its shape and acoustical disposition were considered radical. Today it is positively conservative compared to what has come and gone. It was kind of a "first," but its durability over the years is not due to novelty as much as its absolute performing superiority. It has been revised several times as new, exciting technology and devices appeared. Today's OBELISK could not have been built in 1977. It is still the only genuine poly/omnidirectional loudspeaker on the market. (If you believe any planar loudspeaker is omnidirectional, just walk between a pair, and listen to the music drop.) Let's remember that any sound in the universe has a polyradial trajectory away from its point of source; not direct, axial. Does it not seem reasonable to attempt duplicating reality? The OBELISK docs; and rather succeeds. For its size and price, its actual response is nothing short of remarkable; it performs best when out in the open, away from walls and corners. Room placement/storage is facilitated as it is fitted with four twin-wheel casters suitable for carpeted or hard floors. It recreates space . . . and possesses a sense of scale. It is still unique; it makes music!
Specifications
Rear-mounted passive radiator design with 8-in polypropylene curvilinear cone woofer, two 38mm Titanium ultralight exposed dome midranges, and four W-shaped Titanium/polyimide dome supertweeters. Designed as a genuine poly/omnidirectional speaker which performs best in the open, away from walls and corners. Features woofer with 1 1/2-in aluminum high-temperature patented D.D. voice coils, 28-oz magnet, and magnesium basket; supertweeters with 10-mm voice coils, filters at 6 dB woofer, 18 dB midrange, 18 dB supertweeter; 3.0 amp quick blow fuse. Dual binding posts. Fitted with four twin-wheel casters suitable for carpeted or hard floors.
Power handling: 200W max
Frequency Response: -3dB/28-18,000 Hz
Nominal Impedance: 6 ohms.
Sensitivity: 89 dB
Dimensions: 15" x 13" x 30"
Finish: Oak
Weight: 50 lbs.
If you would like a quote for freight costs, add this item to your cart and complete the form to send us your request. We will send you a price including freight along with instructions on how to make your payment.