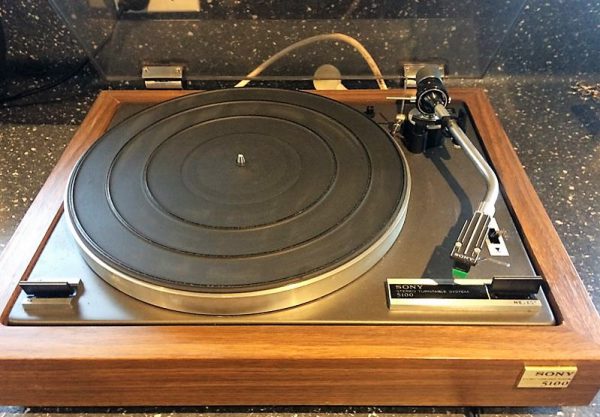 Description. *SOLD*
The Sony PS-5100 is a 2-Speed, belt-driven turntable fitted with an S shaped tonearm.
Fitted to a heavy plinth. This superb classic is in very good condition.
This model has many important features which contribute to the faithful reproduction of your records.
These include a statically balanced tonearm compatible with an induced magnet cartridge and an effective anti-skating compensator.
The platter is made of die-cast aluminium alloy, driven by a belt from a 4-pole hysteresis synchronous motor to help reduce wow and flutter.
Finally, the PS5100 is provided with an arm lifter to prevent stylus and record damage, and an auto-return and auto-reject mechanism permitting semi-automatic operation.
Specifications
Type: belt drive
Motor: 4-pole hysteresis synchronous
Platter: aluminium alloy diecast
Speeds: 33 and 45rpm
If you would like a quote for freight costs, add this item to your cart and complete the form to send us your request. We will send you a price including freight along with instructions on how to make your payment.