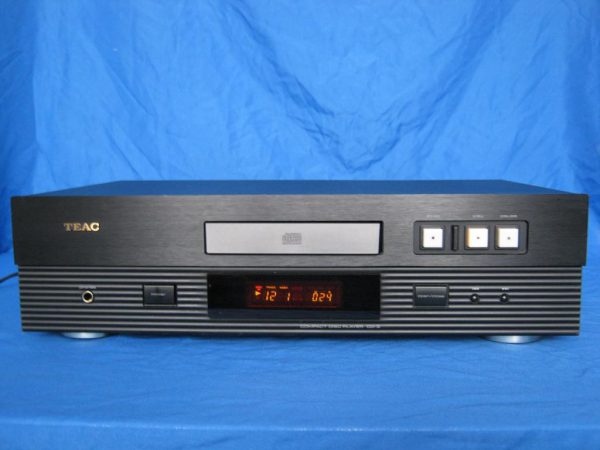 We have two of these remarkable CD players available *SOLD*
Center-Mounted Mechanism
The CD drive mechanism is mounted in the front center of the unit, providing ideal chassis balance and stability. In the CD-3, the large power supply transformer is positioned in the rear center, and the digital and analog blocks are on opposite sides, preventing any interference from degrading sonic purity.
High-Precision 1-Bit Bitstream D/A Conversion
Bitstream Conversion is the latest advance in 1-bit D/A conversion technology. It converts the original 16-bit music data to a high-speed 1-bit data stream, which is then converted into analog signals by the high-performance 1-bit DAC. This 1-bit processing eliminates the main source of non-linearity and distortion, resulting in exceptionally transparent music reproduction, especially of delicate, low-level signals.
The CD-3 also employ a 20-bit 8-times oversampling digital filter. This sophisticated filter stage eliminates left and right channel interference and even-order high harmonics while maximizing signal-to-noise ratio for incredibly clear sound reproduction.
CN Servo
Servo feedback is a possible cause of signal noise, which is why these players are designed to require a minimum of servo correction. To protect against any residual interference, they are equipped with Teac's exclusive CN (clean Noise) servo system. It uses a low-pass filter to eliminate potentially de-stabilizing elements from the servo signal, and also helps minimize vibrations in the optical assembly.
Track Focus Holding System (T.F.H.S.)
Teac's unique T.F.H.S. prevents tracking slips and increases stability. Even if the disc surface is scratched or dirty, T.F.H.S. will read tracking and focus error signals accurately while the pickup holds those signals directly in front of the dirty or defective area. As soon as it is passed, the laser continues reading the same track. The result is fewer errors for more accurate music reproduction.
Other Important CD-3 Features
Multi-function reomte control unit.
High-speed search keys.
20-selection random and delete programming.
4-way repeat function (One/All/Program/A-B Block)
Index search.
Auto space.
Program pause.
Numerical display (Total/Playing/Program/Index).
Time display (Each/Total Remaining/Each Remaining)
RCA Coaxial Digital and analog outputs
Specifications
Channels: two
D/A Conventer [Type/Number]: Bitstream Conversion / 4
Digital Filter [Type/Oversampling]: 20-bit / 8x
Analog Filter [Type/Order]: Butterworth / 3rd
Frequency Response: 1 Hz – 20 kHz (±0,5 dB)
Signal-to-Noise Ratio: 104 dB (1 kHz)
Dynamic Range: 97 dB (1 kHz)
Harmonic Distortion: 0,0022% (1 kHz)
Wow and Flutter: Unmeasurable (Quartz accuracy)
Channel Separation: 102 dB (1 kHz)
Analog Output: 1,7 Vrms
Digital Output: 0,5 Vp-p / 75 ohms
Dimensions (W x H x D): 447 x 124 x 276 mm
Weight: 3,8 kg net
This product is currently not available.