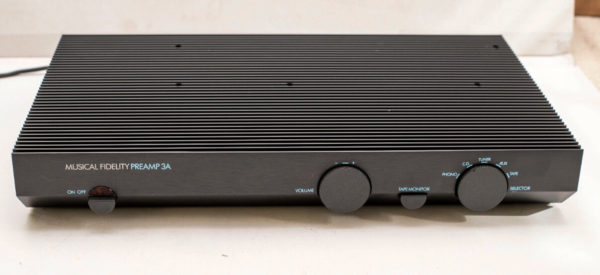 OVERVIEW *SOLD TO HONG KONG*
Based on valve designs, the "Preamp 3A" circuit uses Mosfets instead, to combine the technical advantages of Mosfets with the musical benefits of valve sound. The result of this artful balance of audio values in a clean, open, dynamic but sweet-sounding pre-amplifier with a high quality, quiet phono stage.
SPECIFICATIONS
Musical Fidelity The Preamp 3A
Moving coil phono stage
Moving magnet phono stage
Tape monitor input
CD and Aux inputs
Separate/off-board power supply to reduce interference
In order to reduce AC current noise interference, it comes with heavy separate PSU (Power Supply Unit) connected by umbilical cable to the pre-amp.
Phono MC 80?V
Phono MM 2mV
Line inputs & Sensitivity 150mV
Tape, CD, Tuner, Aux
The amp has the normal outputs – phono, cd, aux, tape, tuner as well as a tape monitor select. The "Preamp 3A" also has a MM/MC facility for phono and is probably a good buy for someone seeking to play vinyl. It has a very distinctive sound, akin to that of a valve amp with warm treble and mid range, and is in perfect working order.
THIS PREAMPLIFIER DELIVERS MUSIC IN A HIGHLY INVOLVING MANNER THAT MAKES ALBUM AFTER ALBUM SIMPLY FLY BY.
A nice piece of classic hi-fi equipment for someone.