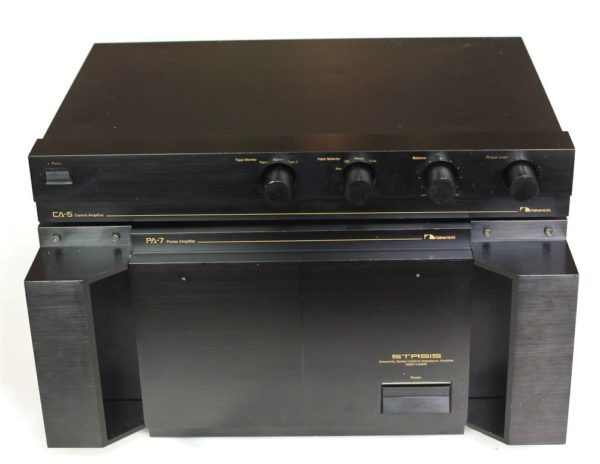 A very rare chance to own a classic combination *SOLD*
Circuit Overview
The PA-7 delivers 200 watts per channel, uses no overall negative feedback (a Pass trademark), and boasts the Stasis section, which consists of a low-power voltage amplifier coupled to the current mirror bootstrap output stage to do all the heavy lifting required for high-power output.
Back in 1989, when Stereo Review featured the PA-7, writer Julian Hirsch measured the PA-7's output at 253 watts into an 8-ohm load, 400 watts into a 4-ohm load, and 650 watts into two ohms. A quick look under the hood reveals why. A large 700 VA toroidal transformer and a bank of power supply capacitors totaling 132,000 µf proves the PA-7 means business.
Power output: 200 watts per channel into 8Ω (stereo)
Frequency response: 20Hz to 20kHz
Total harmonic distortion: 0.1%
Damping factor: 60
Input sensitivity: 2V
Signal to noise ratio: 120dB
Semiconductors: 16 x output transistors per channel
Dimensions: 435 x 200 x 421mm
Weight: 27kg
Price on application
CA-5 Pre amp
Specifications
Frequency response: 1.5Hz to 100kHz
Total harmonic distortion: 0.002%
Input sensitivity: 0.17mV (MC), 2.4mV (MM), 200mV (line)
Signal to noise ratio: 72dB (MC), 81dB (MM), 90dB (line)
Channel separation: 66dB (MM), 62dB (MC), 74dB (line)
Output: 200mV (line), 2V (Pre out), 16V (Pre out Max)
Dimensions: 435 x 63 x 289mm
Weight: 3.7kg