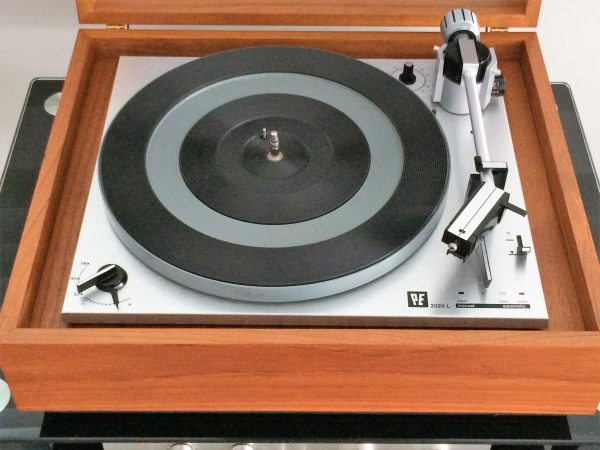 A superb German manufactured Idler dive turntable
German Perpetuum Ebner PE-2020L – Stereo Transcription Turntable –  from early 70's (1970).
VERY RARE & Collectible model.
– Start/Stop/Full-Automatic or Manual Mode (with complete Tone-Arm return & shut off);
– Very heavy die-cast zinc Platter (3,5kg) with sensing poles for presence & disc size;
– Ingenious Antiskating device;
– Vertical Tracking Angle adjustment assembly for Cartridge ( to perfect needle lead-in groove tracking angle =15%)
– Single Mode (short Spindle)/Changing Records Mode (long Spindle);
– 3 Speed Selector Switch (33, 45, 78 r/min);
– all Controls, Knobs, Sensing Poles & Switches works flawlessly;
No cracks – No damage – No missing or broken parts!
*WITH PRICES FOR THIS CLASSIC AND ESOTERIC RECORD PLAYER SET TO CONTINUE TO RISE,
*THIS MAY BE THE LAST DECK YOU WILL NEED TO BUY.
*TO MATCH THE PERFORMANCE OF THE 2020, YOU WOULD HAVE TO BE LOOKING AT THE NEW BREED OF DIRECT DRIVES FROM TECHNICS, SUCH AS THE SUPERB TECHNICS SP-10R AND SL-1000R.
*PLEASE NOTE THAT NO DUBIOUS UPGRADES HAVE BEEN CARRIED OUT. THIS UNIT COMES SUPPLIED TO ORIGINAL =Perpetuum Ebner= SPECIFICATION.
*THE UNIT WAS TESTED FOR SOUND QUALITY, AND WAS FOUND TO PERFECT IN EVERY RESPECT.