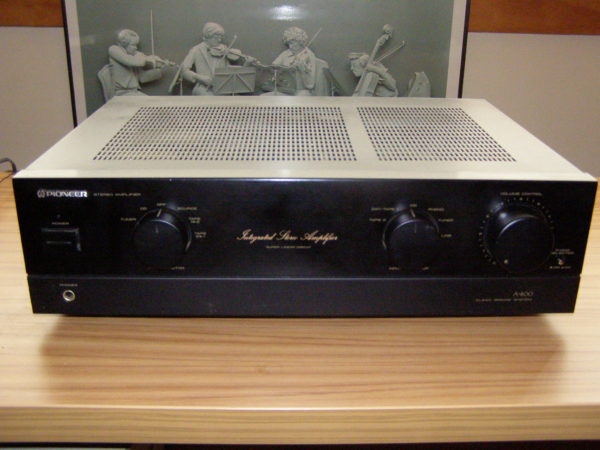 One of the all time great amplifiers  *SOLD*
Pioneer's A400 was so good that subsequent models never really recaptured its essence. With the A 400 apt at producing excellent detail, agility and dynamics, it left rivals scratching their heads as their own attempts to match the Pioneer left them floundering.
Even flanked by high-end sources and speakers, the A 400 rose to the occasion
What the press said:
"There is something ineffably right about the Pioneer A400." Andrew Gold, What Hi Fi?
"It loves music, the A400." "It loves it with a vengeance." Mark Payton, High Fidelity Magazine
"Even if your budget extends to £1000, it could be exactly what you are after" Jimmy Hughes, Audiophile
"As good as amps costing up to a thousand pounds." Hi Fi Choice
"Best Amplifier", "Best Buy Overall", "Product of the Year" What Hi-fi?
"Best Amplifier" Hi Fi Choice
Specifications
Pioneer A-400 technical specification:
EE design by Tadao Yoshida
Technology employed from the Pioneer C-Z1
Super Linear Circuit (SLC)
Clean Ground System (CGS)
DIN Continuous power output (both channels driven at 1 kHz)
85W + 85W into 4 Ohms. 1% THD
60W + 60W into 8 Ohms. 1% THD
Continuous power output (both channels driven at 20 Hz to 20kHz)
70W + 70W 4 Ohms, 0.05% THD
50W + 50W 8 Ohms, 0.03% THD
Dynamic power output (on EIA dynamic test signal)
135W/100W/70W into 2 Ohms /4 Ohms /8 Ohms
Damping Factor: 130 (20Hz – 20kHz)
Total Harmonic Distortion
0.03% at 20Hz-20kHz , 50 W, 8 Ohms
0.05% at 20Hz-20kHz , 70 W, 4 Ohms
Frequency Response
5Hz-100 kHz + 0/- 3 dB (CD, Tuner, Aux, Tape)
20Hz-20 kHz +/- 0.3 dB (Phono MM)
20Hz-20 kHz +/- 0.5 dB (Phono MC)
Signal-to-Noise ratio (IHF short circuit, A network)
108 dB (CD, Tuner, Aux, Tape)
87 dB / 69 dB (Phono MM, 2.5 mV input, Phono MC, 0.2 mV input)
Signal-to-Noise ratio (DIN, continuous power/50 mW)
88 dB / 65 dB (CD, Tuner, Aux, Tape)
74 dB / 63 dB (Phono MM)
Input sensitivity/impedance
CD, Tuner, Aux, Tape: 150mV/ 50 kOhms
Phono (MM): 2.5mV/ 50 kOhms
Phono (MC): 0.2mV/ 100 kOhms
Power supply: 240V AC, 50/60 Hz
Power consumption: 520 Watts
Dimensions:420(W)x352(D)x126(H)mm
Weight: 8 kg / 9.9 oz (17.621 lb)