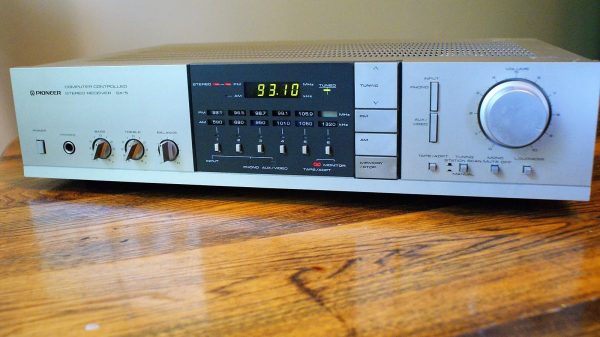 Newly arrived is a Pioneer SX-5 Receiver.  *SOLD*
The SX Series was the last of the vintage series of quality from Pioneer.
These "champagne" faceplate really stood out on audio shelves. Square buttons are sleek and small. Tuning scanning is driven via the computer controlled LED's in rapid concession. Cool looking and functional. The SX-5 is rated at 30 watts per channel with less than 0.02% THD. Very modest for the output it produces. This look turned the corner for the modern marketplace of receivers, a real beauty. Built in 81/82 this SX series changed drastically from the silver faced 3400 series of the late 70's.
The SX-5  was based on the Nelson Pass vari-bias circuit, which emulates Class A operation without the large idling current normally associated with Class A amplifiers. It was an impressive sounding circuit, licensed to several Japanese manufacturers in the early 80's
Tuning range: FM, MWPower output: 30 watts per channel into 8Ω (stereo)Frequency response: 10Hz to 50kHzTotal harmonic distortion: 0.02%Damping factor: 50Input sensitivity: 2.5mV (MM), 150mV (line)Signal to noise ratio: 76dB (MM), 96dB (line)

Output: 150mV (line)

Dimensions: 420 x 98 x 311mm

Weight: 5.8kg

Year: 1981