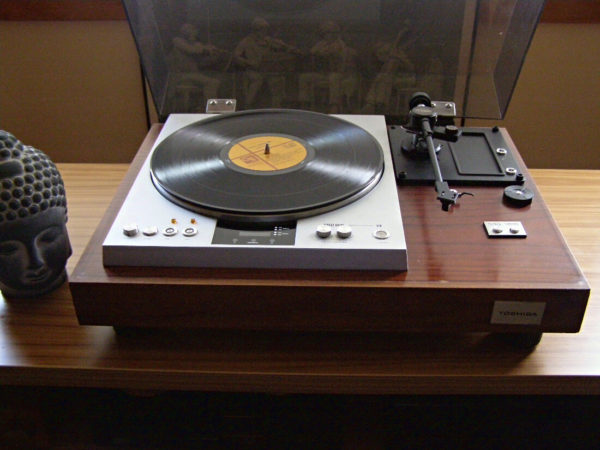 A very rare Toshiba SR 510c direct drive turntable. Fitted with a superb Mission 744 IC  Tonearm and a Pickering V15 Phase  IV cartridge with a brand new styli.
Directly from the ' 70, Toshiba SR-510C turntable was the flagship of the Toshiba Turntables: an example of the expertise acquired by Japanese manufacturers in the engineering of direct-drive turntables.
The motor is an eddy current AC servo type and the moderately heavy 2-7 lb diecast platter contributes to a high moment of inertia to minimise short-term speed fluctuations. The servo speed control involves the detection of pulses related to actual rotational speed by a lamp and photo-cell system. The pulses are converted into a DC voltage which can be compared with a built-in reference voltage (one for each of the nominal speeds 33+ and 45 rpm). The differential voltage is used to control the drive voltage and so maintain constant speed.
Fine speed control over a range of ±4% is provided independently for 33+ and 45 rpm, using rotary knobs on the motor-board.
Applying power to the turntable is the function of a pair of 'on/off' push-buttons and speed selection is performed by two sensor switches which require only the lightest touch to operate.
The wooden base is beautifully finished and is supported on four substantial shock absorber feet. These have milled edges and can be turned to set the machine true in the horizontal plane: a built-in circular spirit level on the motor board shows when this has been achieved.
Specifications
Drive system: direct drive
Drive motor: ac servo motor
Speeds: 33 and 45rpm
Speed adjustment range: +-4%
Platter: 300mm, 1.2kg, aluminium diecast
Signal to noise ratio: 60dB
Wow and flutter: 0.03% wrms
Dimensions: 550 x 414 x 190mm
Weight: 12.5kg