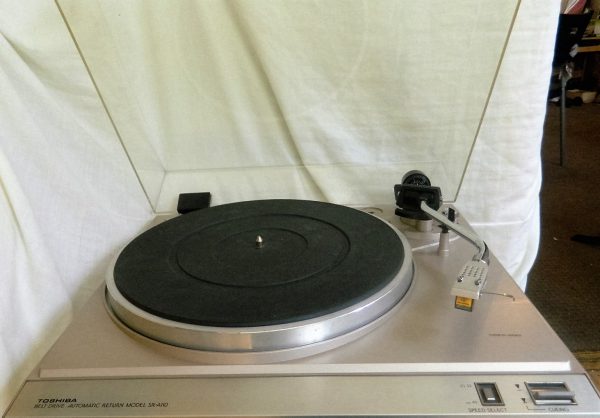 The Toshiba SR-A110 is manufactured in Japan and is in very tidy condition A reliable and excellent performer *SOLD*
SR-A100  PRODUCT  SPECIFICATIONS INCLUDE:
Drive System: Belt Drive.

Motor Type: 4-Pole Semi-synchronous Motor.
Rotational Speed: 2-Speed (33-1/3 & 45 rpm).

Turntable Platter: 31 cm. Diecast Aluminum.

Tonearm: Static Balanced Pipe.

Effective Tonearm Length: 215 mm.
Tonearm Overhang: 16 mm.

Tonearm Tracking Error: +/- 2o.

Net Weight Range of Replaceable Phono Cartridges: 12 – 20 grams including Headshell and Lock Nut.

WOW and Flutter: DIN: Zero to Peak 0.12%.  WRMS: Less Than 0.08%.

Rumble: DIN A: Lower Than 35 dB.  DIN B: Lower Than 60 dB.

Power Supply Voltage: 120 Volts AC (60 Hz.).

Power Consumption: 8 Watts.

Color: Silver Matte Finish.

Weight: 11.45 Lbs. (5.2 kg.).

Dimensions: 422 mm (W); 359 mm (D); 139 mm (H).
Included Accessories: Clear Dust Cover with Hinges & 45 RPM Record Adaptor.