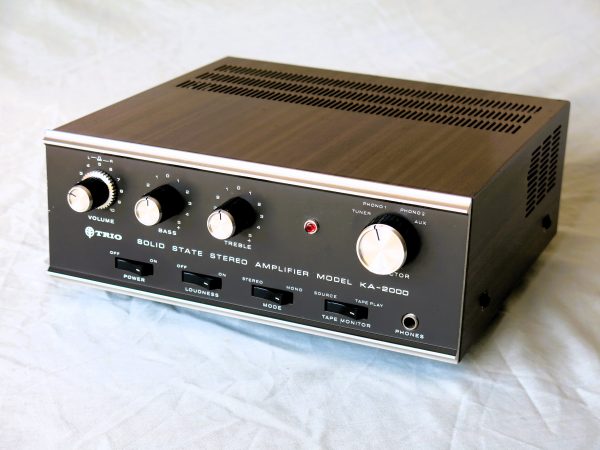 A Tiny Treasure .
The KA-2000 all transistor stereo amplifier is from Kenwood/Trio's new collection of precision-engineered units with space age solid state circuitry.
It's superior performance is the result of our engineer's many years of devoted research in the transistorized field. The KA-2000 is transformer-less from input to output terminals thus achieving playback perfection.
One of the most exciting and rewarding features is an all-new and exclusive safety circuit (US Patent) which provides complete protection for power transistors preventing damage which might otherwise result from an excessive input signal or an output terminal short.
The KA-2000 expects rugged use. It was designed and engineered to take it.
Specifications
Power output: 13 watts per channel into 8Ω (stereo)
Frequency response: 20Hz to 50kHz
Total harmonic distortion: 0.5%
Damping factor: 20
Input sensitivity: 2.1mV (MM), 130mV (line)
Signal to noise ratio: 65dB (MM), 75dB (line)
Speaker load impedance: 4Ω to 16Ω
Dimensions: 260 x 105 x 237mm
Weight: 10lbs