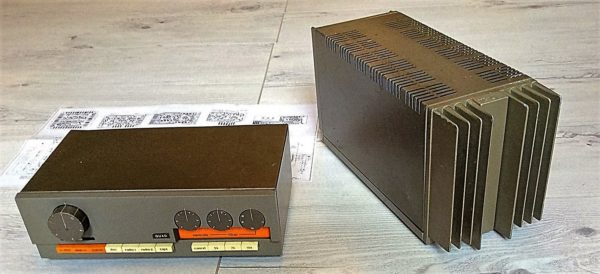 A classic British combination *SOLD*
The Quad 33 selects and controls the radio tuners, gramophone pickup and tape recorder connected to it and feeds the loudspeakers via the power amplifier, providing for stereo, mono on either or both channels, from all inputs, plus monitoring and track selection facilities for tape.
Quad units may be used either free standing or mounted in a cabinet with plenty of scope for individual preference in layout.
The standard Quad system of mounting is used, requiring only a rectangular cut-out for which a template is provided.
The controls are comprehensive but simple and are logically grouped to facilitate selection and control of the programme.
The filter is essential with modern good quality speakers and helpful at any time.
It removes surface noise, tracing distortion and similar shortcomings in the upper frequency range of the recording or broadcast, and the two control filter system achieves this to a very fine degree without intruding unnecessarily into the harmonic range so essential for realistic reproduction.
Specifications
Frequency response: 30Hz to 20kHz
Total harmonic distortion: 0.02%
Input sensitivity: 2mV (MM), 100mV (ceramic), 100mV (line)
Signal to noise ratio: 70dB (MM), 85dB (line)
Output: 100mV (line), 0.5V (Pre out)
Dimensions: 260 x 92 x 165mm
Weight: 3kg
The Quad 303 is a two channel power amplifier primarily designed for high quality domestic installations.
It is ideally suitable for driving loudspeakers in the 4-16 ohm range and will provide an output of up to 45 watts per channel depending upon the load impedance.
The input required for full output is 0.5 Vrms unbalanced.
Transistor triples are employed in an original circuit to provide a completely symmetrical output stage, quiescent current independent of junction temperature and symmetrical current and voltage limiting.
Harmonic and intermodulation distortion products in the audio range are so low that they are difficult to measure in meaningful terms.
The amplifier is unconditionally stable and may be used with any load.
For special applications requiring continuous power into low (less than 8 ohm) or reactive loads such as driving synchronous motors, etc, the maximum power or duty cycle may be limited by the ability of the heat sink to dissipate the heat generated (max heat sink temperature 70 degrees).
The two channels may be used together or independently but the two outputs should not be paralleled without incorporating some form of current sharing network.
Specifications
Power output: 45 watts per channel into 8Ω (stereo)
Frequency response: 30Hz to 35kHz
Total harmonic distortion: 0.1%
Input sensitivity: 0.5V
Signal to noise ratio: 100dB
Speaker load impedance: 4Ω to 16Ω
Dimensions: 120 x 159 x 324mm
Weight: 8.2kg